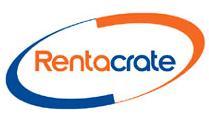 Rentacrate
Evelyn Street 16
London,
SE8 5BF
Since 1970
Operating from 11 sites nationwide, Rentacrate has the largest UK Distribution Network of its kind.
From our inception in 1970 Rentacrate are acknowledged as a premium support service provider by its clients in:
*Office and Commercial Relocation
*Retail Distribution & Logistics
*Food Production
*Domestic Relocation.
Staff
Rentacrate employ over 90 staff.
The main contact for enquiries would be
Nick Flaxman, National Key Account Manager
M: 07768 057 496
Memberships
Rentacrate are ISO 9001 accredited and are an affiliate member of the British Assosiation of Removers (BAR).
Area of Business
Rentacrate have been at the forefront of every major technological advancement in returnable packaging and have consistently led the industry in New Product Development.
Rentacrate offers what has become the finest total sequential moving solution in the Office and Commercial Moving Industry and is now able, through technology to provide this service to Domestic Movers.
Fees
Rentacrate provide services to the Domestic Market on-line. An average cost for a 3 bedroom semi-detached property would be £20.00 per week for 40 Crates.